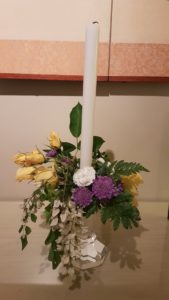 In June, our family participated in a Celebration of Life for my husband who succumbed to cancer the month before. I wasn't planning on making arrangements for the reception tables, but my floral wholesaler said, "You can't do that!" when I told him that I was planning on having some potted plants instead. So my daughter and I made sixteen ikebana, and I decorated two crystal candle holders and made two western style arrangements. Despite our grief, I know the effort that we put into making the service beautiful would have pleased my husband, and we could feel his spirit with us that day.
On a lighter note, I was asked to make some ikebana for a Mercedes Benz dealership in Surrey. They wanted two of each themed arrangements to represent "earth ", "air" and "water ". They also asked for four to incorporate the Mercedes Benz logo. The latter was easy…..I used three closed birds of paradise each facing away from one another. All the arrangements had orange flowers to keep everything cohesive.
I also did the flowers for a wedding for a June bride.